Reason number three:
Today is my wedding anniversary. Mike & I have been married for 3 years today. We've been together for 13 years, but married for 3.
We got married in the backyard at our house. We were married by my brother in law Jamey (Andrea's husband). Did you know in the state of California you can become an ordained minister for a day?
We were so happy to be finally married. I think everyone in my family was happy that we were finally married.
It was 105 degrees the day we were married.
We are trying hard not to crack up.
I now pronounce you husband & wife. For some reason, we all thought that was pretty funny.
Our wedding cake. The bride & groom I wanted on the top of the cake was too big. So this was my 2nd choice. Why are wedding cakes so dang expensive?
Cutting the cake.
Toasting to being married! It's Martinelli's people! And did you notice the burn on my arm? Yup, burned it on the oven the day of the wedding.
You may now kiss the bride.
We called it our ebay wedding. As we paid for the wedding with money I earned from selling on ebay. And most of the items we purchased for the wedding came from ebay. Including my dress.
And here we are 3 years later. Well actually this photo was taken in Vegas in January of this year.
Happy Anniversary Babe!!!! I love you!!!!
Kim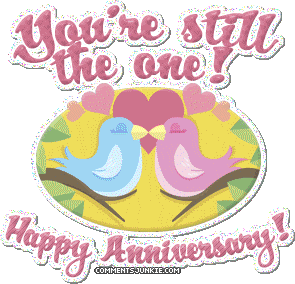 Oh, and a big thanks to my sis Andrea for wishing us Happy Anniversary. I was writing this post when I noticed that she beat me to the anniversary wishes. I promise to never accuse you of not participating on the blog. Thanks for the good wishes. It means a lot.
And be sure to scroll down & read all the posts for today. There are now 4 of them.